Holiday season is under way and people love to remind you that if you haven't booked your travel arrangements months in advance (like,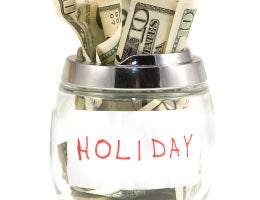 really, who does that anyway?), you won't be traveling at all. Don't worry Pynk girl, there are ways around the cesspool of over-spending that's related to holiday travel, and if you haven't booked your flight already, we have news for you—it's not too late!
These travel tips will not guarantee that you won't have to deal with long lines, pesky layovers, or petulant concierge hosts; however, you can decrease the stress of overall travel planning when you decide to be flexible and focus more on the true reward of making it to your final destination: family.
Book fixed-cost trips
Fixed cost trips mean that you pay one price for an aggregate of services like your room, land transportation, adventures/excursions, and or meals and beverages. These kinds of all-inclusive fares are best booked with travel agents, but you can cut the middle man out and do it yourself. There are tons of options all-inclusive resorts and cruises, as well as city passes if you're looking to stay in the states and be a tourist in your own city. We like the following resources…
Cheapcaribbean.com
Expedia Vacation Packages
Groupon
Chasingdestinee.com
Use the price comparison websites to book your flight
According to Forbes.com Sunday and Tuesday are the best days to book discounted travel (about 5%). The margin is small, but it could very well be the difference starving on your flight, or being able to snag a bagel for a quick bite. We like…
Expedia
Travelocity
Kayak
Fly on the holiday
We know, the last thing you want to do is fly in on Christmas Day or New Year's; however, studies show that being fashionably late can save you up to 50% on plane tickets. You could also consider booking the flight that has several seats available because it departs at ungodly hours of the morning. Consider…
Flying standby
Booking the overnight flight
Explore the open road
If you live within X miles of your holiday destination, consider driving and taking advantage of low gas prices. You could also look into taking the train or a bus, some bus fares can go for as low as $1. We like…
Mega Bus
Bolt Bus
Greyhound
Ditch the fancy hotel
We understand, this is a much needed break and you deserve to walk in the hotel lobby and see crown molding and a Venetian sculpture suspended from the ceiling. However, the way your holiday budget is set up…you can save the fancy trip for off-season when hotels like these sell rooms for dirt cheap. But if you want to get home to Grandma's sweet potato pie, but you don't want to be piled up in her 3-bedroom row house, consider alternative lodging.
BudgetTravel.com suggests that in particular, extended stay hotels usually cater to the "travel for business" market. Since those folks will be enjoying their families as well, you may be able to snag a cheap room to fill the space. Most of them even have modern amenities. We would opt for the following…
Hilton Extended Stay
Motel 6
Choice Hotel Chains
Air BnB
Think, Budget
Sometimes, saving a buck and still having a good time comes down to your perception of it all. Family and faith are the real reason for the season, not the 2016 coupe you were hoping to rent and ride around in. To that end, we suggest that you use public transportation as a resource (where applicable) and consider these other penny pinching tips to ensure your holiday travel does not completely drain your wallet…
Public transportation: trolleys, metros, city bus
Uber, Lyft
Shopping: strip mall, outlet mall, thrift/consignment shops
Dining: gastropubs and diners, chains (Fridays, Applebees), or cook!
All Photo credits: Getty Images, Bankrate.com, Onestepforward.com